Event
Adelaide Intermediary Program - SA Insights Series
28 Jul 2022
16:30PM
Adelaide, The University of Adelaide, South Australia, Australia
MTPConnect Adelaide Intermediary Program
Register
About the Event
Pia.Vogrin@mtpconnect.org.au
About this event
Join Stephanie Morris, Director of Innovation and Translation for the Adelaide Intermediary Program as she hosts MTPConnect's SA Insights Series.
Stephanie will facilitate a fire-side chat with LBT Innovations' CEO and Managing Director, Brent Barnes, and Scientific Director, Dr Steven Giglio. Brent and Steven will share insights into the development journey of their lead product, Automated Plate Assessment System (APAS®), how they've continued to innovate using intelligent imaging technologies, their strategic partnership with Thermo Fisher Scientific and what is in store for the future of this exciting South Australian company.
This event will be followed by an opportunity to network over drinks and nibbles.
Who should attend:
Researchers, clinicians, entrepreneurs, founders, MTP industry professionals, commercialisation professionals, members of the Adelaide ecosystem.
Bring a Plus 1 and WIN
Meet, greet, and take a seat at the SA Insights Series. Register for TWO today, meet-up at the SA Insights Series event and you are in the running to WIN a prize.
Bring a colleague or invite a person you have been trying to connect with.
We look forward to seeing you both at the event.
** please provide the name and email details for your guest during the registration process, so we can confirm numbers for catering**
Speakers:
Brent Barnes, CEO and Managing Director
Brent became CEO and Managing Director of LBT in 2016. Since joining, Brent has focused on developing LBT's in-house core capabilities of science, artificial intelligence and software engineering. Prior to this, Brent spent 11 years as a Senior Executive at Cochlear Limited. Brent brings a big company vision with a global outlook to LBT.
Dr Steven Giglio, Scientific Director
Dr Steven Giglio has more than 25 years' experience in public health microbiology with a history of developing and implementing new, rapid diagnostic technologies. Steven is responsible for setting the scientific strategy and direction for LBT's product development activities. Previously Steven led several large infectious diseases laboratories across South Australia.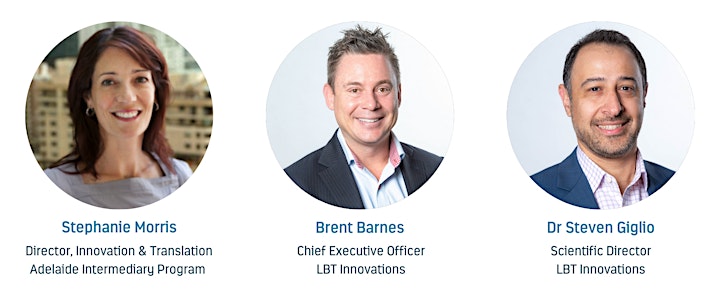 About LBT Innovations:
LBT Innovations is a ground-breaking designer of advanced diagnostic technologies. Their innovative product, APAS® Independence, automates laboratory culture-plate screening and interpretation, resulting in faster, more accurate microbiology results.
LBT commenced almost 20 years ago with the invention of an automated plate streaking system, which was licensed and sold in over 25 countries across the globe. Since then the company worked with the Australian Institute of Machine Learning in Adelaide to develop the APAS Independence and have established a pipeline of solutions that focus on improving clinical microbiology workflows.
In 2020, LBT Innovations received funding through MTPConnect's Biomedical Translation Bridge program to develop APAS®-AMR, an advanced system used to detect antimicrobial resistance.
Podcast:
You can also listen to The MTPConnect hosted podcast: LBT Innovations' technology aims to speed up detection of antimicrobial resistance.
In the know:
Do you want to know more about the Adelaide Intermediary Program? Click the link and watch a presentation by Adelaide Intermediary Program Director Jo Close.
Save the Date - SA Insights Series – August 10, 4:30pm to 6:30pm featuring South Australian of the Year 2022 Professor Helen Marshall.
Stay connected to events, news and opportunities - Follow MTPConnect on EventBrite, click the follow button in the top right corner of the event listing.
Parking:
Please note nearest car parking is available at the Royal Adelaide Hospital, on Hindley Street and the Adelaide Convention Centre.
Further Information:
For more information, visit the Eventbrite page to register.

---